You can help ensure that no child goes homeless in San Antonio.
SAMMinistries recognizes that overcoming homelessness for families means more than helping parents acquire the tools necessary to be self-sufficient. The child-focused services offered to the children living at our Transitional Living and Learning Center is the catalyst for the Campaign to End Child Homelessness.
The Transitional Living and Learning Center provides housing security, so that the homeless children living there are safe and able to begin to move beyond the trauma they have experienced. Enrichment activities are provided in the Harvey E. Najim Children's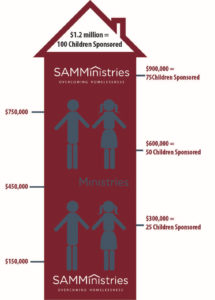 Enrichment Center and the Harvey E. Najim Library to encourage cognitive, social, and emotional development. The children and their families also have access to onsite medical, dental, and mental healthcare, to help ensure healthy growth and development.
Of the 145 clients living at the TLLC, 97 (approximately 67%) are children
Daily housing cost = $4,679
Cost per child per day = $32.27
$32.27 x 365 = $11,779 per year to care for a child at the TLLC
We know that even just one child facing the tragic consequences of homelessness is one too many.
Fill out the form below to do your part to ensure that every child in San Antonio has a place to call home.