When Roxana left a 14-year domestic violence relationship, she had nowhere to turn. She had no family in Texas, so she and her two young children, Daniela and Cesar, were on their own. Roxana took a low-paying job, but the bills began to pileup. It was then that she had an epiphany, she could either live like this, barely able to afford her monthly bills for the rest of her life, or she could make a change.
---
"I was going to give up…"
---
Roxana decided to make a change and enrolled in classes at San Antonio College (SAC), pursuing her Associate's Degree. She worked during the day and attended classes at night. Her 12-year-old daughter would help make dinner and watch her younger brother while Roxana was in class. "I felt guilty, I wanted to be at home to cook dinner and finish homework with my children," Roxana remembers.
Just a few months into her first semester, the bills became too much for Roxana to handle. She knew her family was on the verge of eviction, so she began to look for other options. "SAMMinistries was on a list of service providers that I received from a friend. I remember just working down the list, calling each program to see where my family would fit." Within days of her first call, Roxana began coming toSAMMinistries to complete the three interviews required for acceptance into the Transitional Living and Learning Center. The day after Roxana and her children were evicted from their apartment, they received the keys to their new room at SAMMinistries.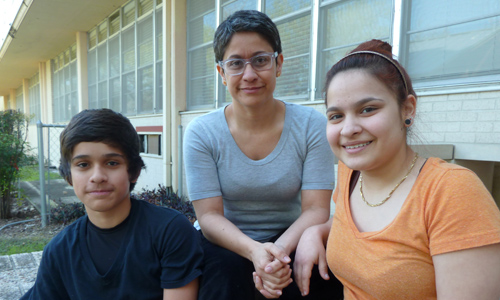 ---
"We had to leave everything behind…"
---
Roxana recalls her first day at the Transitional Living and Learning Center: "I remember going into the new room and there were lots of new things on the bed. We had to leave everything behind at our apartment. It was like a glimpse of hope in the darkness we were going through. That was part of the support that SAMMinistries gave us. It started on day one, and that support was constant throughout the time we stayed here."
Roxana's goal was always to be stable enough to move out of the Transitional Living and Learning Center. She knew that she wanted to make the most out of the two-year program, and she immediately began taking steps toward independence. "Volunteers came from different companies to help us practice interviews, which was so important to me as I looked toward graduation and began to plan for entering the job market," said Roxana. She also regained control of her finances. "Having to save 30% of my income was such a help for us. It taught me to have better control over my finances, and it helped give us a safety net for the future."
---
"Where were we going to sleep the next day?"
---
With no family living nearby, Roxana, Daniela and Cesar formed a new kind of support system at SAMMinistries. "Living with other families was helpful because we were going through the same things. Our backgrounds were completely different, but we would all sit together and eat like a family. In those times when it's important to have family, we did."
Within 18 months, Roxana had completed her goal and moved out of the Transitional Living and Learning Center.
She and her children are thriving thanks to your generous donations.
This summer, Roxana will graduate from Texas A&M San Antonio with a Bachelor's degree, and begin her career as a Licensed Interpreter for the deaf. Roxana's daughter, Daniela, graduated from high school and, following in her mother's footsteps, is taking classes at SAC to become a sign language teacher. Her son, Cesar, is a Freshman in high school and was recently promoted to the Varsity wrestling team.
Roxana looks back on her time at SAMMinistries fondly, "Our time at SAMMinistries is a historical marker in our lives. A marker for a new beginning, for positive change."